UMC 425 Honda Versatool Split Shaft Brushcutter - £100 Saving
Special Price
£289.00
Regular Price
£389.00
Split Shaft Brushcutter Power Unit (Only)
25cc 4 Stroke Engine
D-Loop Handle & Barrier Bar
Single Strap Harness
Making sure your garden is neat and tidy isn't always easy. That's why we've created the new Versatool brushcutters to take on a variety of domestic and professional tasks all year round.
The two models, UMC425E and UMC435E, come with a choice of two extensions and seven attachments, making them very convenient and versatile for a wide variety of tasks. These include a linecutter, leaf blower, edger, cultivator, pruner and a short and long hedge trimmer.
Our innovative joint locking system has been designed for minimum effort and maximum simplicity. Simply push and click to lock your preferred attachment securely in place. You'll breeze through the work - giving you more time to enjoy your beautifully tendered garden.
Powered by Honda 25cc and 35cc engines, each model brings the benefits of four-stroke technology to garden work, including best in-class noise levels, vibration, emissions, usability and starting; and thanks to not having to mix fuel and oil, they're easier on the pocket, too.
WHAT WE OFFER
Ready to Go

: Includes

FREE OIL

and Instructions.


S

peak to the Lings team

:

01379 853495


Free UK Delivery :

FREE Next business day delivery on this product*
*Excludes some Scottish, Irish and Offshore postcodes.


Lings Customer Promise

: Our Honda trained personnel will deal with your enquiry professionally


Pre Delivery Inspection :

All our Honda products are Inspected and tested by one of our Honda licensed technicians to make sure it reaches you ready to go.

THE HEDGE TRIMMER
Perfect circular bushes and cornered hedges.
The hedgetrimmer's adjustable trimming angle helps you sculpt bushes and hedges.
Whether you're shaping small bushes or taming tall hedges, the hedgetrimmer attachment comes in a size right for the job – either 50cm or a longer, 54cm version. Both sizes have an adjustable joint that pivots both left and right, to ensure comfort and manoeuvrability.
Tough blades
The hedgetrimmer's blades are double-sided. This means you can cut by moving the Versatool either left or right – making it all a little easier. It also features an anti-snapping guard, which guarantees it'll keep on going.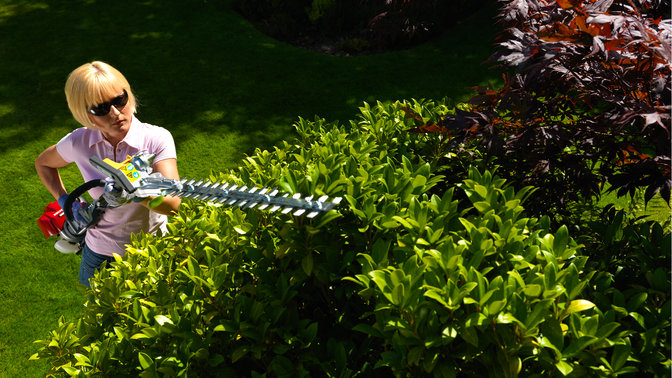 There are two sizes of hedgetrimmer to choose from – 50cm or a longer 54cm version.
THE PRUNER
Cutting branches down to size.
For both the domestic and commercial gardener, the Versatool pruner attachment maintains constant torque to help you get through the toughest of branches. It can get to high places with its extended shaft, and can also be used with the extension pole to reach even greater heights.
Safety check
The pruner has a translucent oil reservoir, which makes it simple to check the level visually and prevents the attachment being damaged.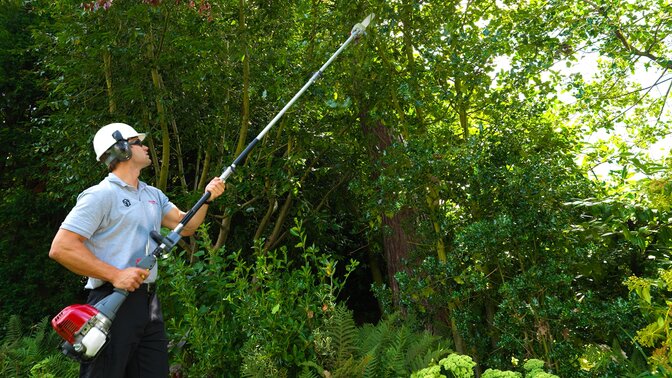 The pruner can reach greater heights with the handy extension attachment.
THE LINE TRIMMER
Making light work of dense foliage.
The semi-automatic line trimmer head feeds the nylon thread, simply by tapping it on the ground. Five inches in diameter, the head will hold over 56% more line than a traditional one, too. The small cutter that snips the line is made of metal – not plastic like other manufacturers' products. That means it can be sharpened – a must for professional use.
Two-in-one cutter
Our unique safety guard makes it simple to change the nylon head for a heavy-duty three-tooth blade. Ideal for tackling thick bushes, there's no need to buy an additional guard either – the lower part is easily removed and reattached after changing the head.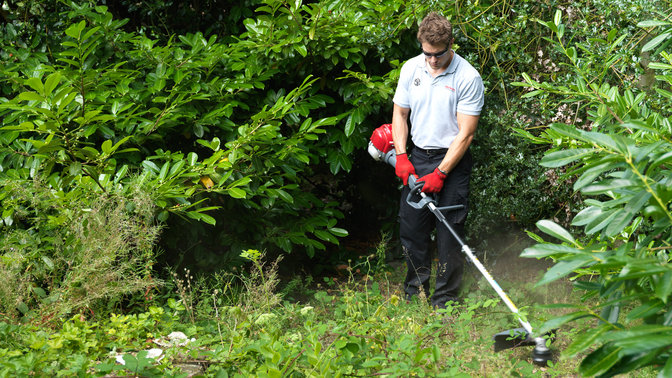 The line trimmer is perfect for getting through dense shrubbery.
You can switch the nylon thread for a robust three-tooth blade.
THE BLOWER
Say goodbye to garden muck.
Extremely lightweight and easy to use, the blower attachment keeps your lawn, driveway and garden paths free of leaves and garden rubbish – giving your garden the look of a freshly hoovered carpet.
Air intake from the top of the blower means it won't get blocked.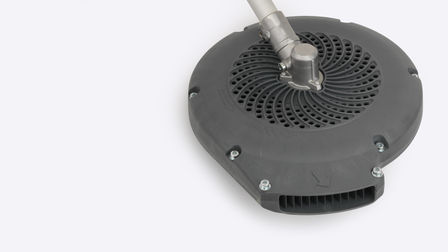 Extremely lightweight and easy to use, the blower attachment keeps your lawn, driveway and garden paths free of leaves and garden rubbish – giving your garden the look of a freshly hoovered carpet.
More effective airflow
The blower provides a powerful target airflow of two square metres, and because it sits directly parallel to the ground, there's no loss of airstream – it moves garden debris with ease. And with air intake from the top, it won't get blocked.
The blower gives your garden a tidy finish, free of clutter.
THE EDGER
Get a clean-cut lawn without the back-ache.
With the edger, there's less bending down to edge your lawn.
Creating a neat finish to your lawn is easy with our edger attachment – it creates a tidy and attractive garden edge around flowerbeds, pathways and patios for perfect-looking grass.
Height adjustable
The edger features a blade guard to protect against grass clippings, soil and sand being scattered across the lawn. Its easy to use adjustable height tailors the tool just for you – giving your back a rest from crouching down with a garden trowel.
The blade guard is for safety, but also stops debris from covering your lawn.
THE CULTIVATOR
Get better-aired soil for healthy vegetables and plants.
Perfect for maintaining garden beds and vegetable patches, the durable cultivator attachment provides high torque for tackling compact soil. Its 20cm working width gives you accuracy in moving around beds, and makes tilling and aerating your soil easy.
Breathe life into your plantation
Properly aerated soil helps you grow healthier vegetables, plants and flowers. The loop handle is easy to hold and use, and the cultivator's strong blade cover adds further protection for peace of mind.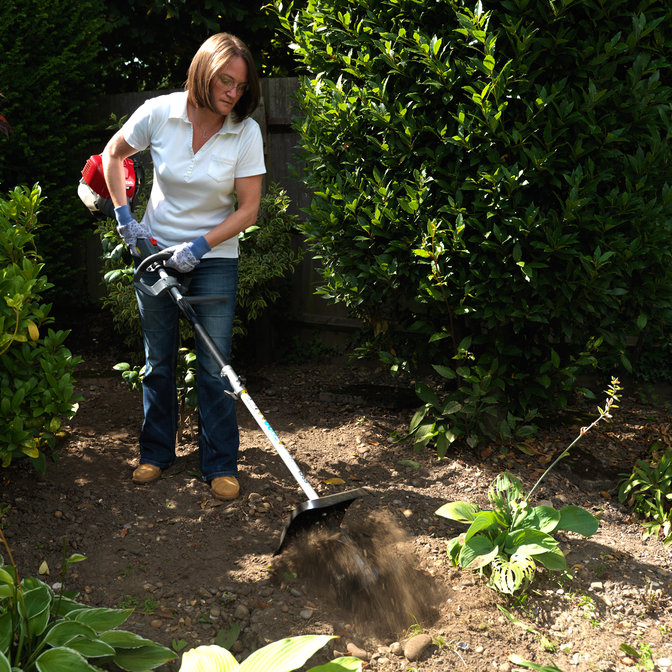 The cultivator's high torque and specially-designed tines help break down compacted soil.
| | |
| --- | --- |
| Brand | Honda |
| Power Source | Petrol |
| Power Details | Honda GX25T - OHC 25cc 4 Stroke Engine |
| Shaft Type | Straight |
| Starting Method | Recoil |
| Design | Harness |
| Hand Type | D-Loop |
| Attachments | Please See Features Tab |
| Additional Cutting Heads | Please See Features Tab |
| Fuel Tank Capacity  | 0.58 Litres |
| Engine Oil Capacity | 0.08 Litres |
| Tranmission Type | Low Vibration Centrifugal Clutch |
| Noise Value - Sound Power Level dB(A) | - |
| Weight | 5.60 kg |
| Dimensions (L x W x H) | 1,133 x 310 x 245 mm |
| Warranty | 5 years domestic |
| Other Features | Joint System |
STANDARD PARTS DELIVERY
For all parts & accessiories orders under £100 not purchased with a new machine, we offer a next working day service (if ordered Mon-Fri, stock permitting) Please note: Saturday & Sunday do not count as working days. Orders placed over the weekend will be processed on the following Monday (or Tuesday if a Bank Holiday). There will be a charge of £7.95 these orders will be dispatched out on 48 hour trackable Parcelforce service.
FREE SMALL MACHINE DELIVERY
On all Honda IZY Lawnmowers, small Tillers (FG110 upto FG205), all Brushcutters & Hand Held items we offer FREE next working day service if ordered before 1pm (if ordered Mon-Fri, stock permitting) Please note: Saturday & Sunday do not count as working days. Orders placed over the weekend will be processed on the following Monday (or Tuesday if a Bank Holiday). This is a trackable service and you will recieve a conformation email with you tracking number once the items has been collected by UPS. Unfortunately UPS are unable to advise a delivery time for their service, therefore the delivery will take place between 9am to 7pm.
FREE LARGE & REAR ROLLERED MACHINE DELIVERY
On all Honda rear rolled and large walk behind lawnmowers we offer FREE 48 Hours pallet service via Anglia Freight on orderes placed before 10am (if ordered Mon-Fri, stock permitting) Please note: Saturday & Sunday do not count as working days. Orders placed over the weekend will be processed on the following Monday (or Tuesday if a Bank Holiday). This allows the machines to be delivered safe and secure on machines which otherwise due to their weight may be damaged in transit.. All the machines will have a complete PDI (Pre Deliovery Inspection) and the oil will be left in the machines engine ready for the customer to us the machine, all that will be required is for fuel to be placed in the machine and for the hands and grass bag to be fitted.
OFFSHORE UK & REPUBLIC OF IRELAND
If you're ordering to a offshore UK address or to the Republic of Ireland additional charges may apply. To receive a quote for these costs along with estimated delivery times, please contact us stating your address and the items you would like to order. You can still place your order through the website without receiving a quote but we will be in touch via email after the order has been placed to confirm delivery costs.
COLLECTION IN STORE
If you wish to pay us a visit you can collect the machine from our Harleston dealership at Lings Corner, Mendham Lane, Harleston, Norfolk IP20 9DW. Please speak to a member of our team to arrange a time and date for the collection.
LAWN TRACTOR & RIDE ON DELIVERY
For larger items of Honda Power Equipment (Lawn Tractors & Ride On Lawnmower) our own delivery vehicles are used with a trained member of the Lings team. They will do a careful product handover ensuring you fully understand the products controls, safety and accompanying paperwork. When purchasing your new Lawn & Garden machine from Lings you can arrange with our sales executives to organise the delivery to either your home or work address once your machine is ready. We deliver between Monday and Friday and our delivery drivers are fully trained to carry out a full hand over of your new machine, complete all relevant paperwork and collect your part exchange if necessary.
All new and used Honda Lawn Tractors & Large Tillers will be charged as per price guide below:
Zone 1 - £150
Zones 2, 3 & 4 - £75
Zones 5, 6 & 7 - FREE
WHAT IS A PDI AND WHY DO WE DO IT...
Here at Lings Honda, as authorised Honda Dealers, we give you the confidence of buying a Honda mower and it "working straight out of the box" and unlike other online companies we go above and beyond the Honda requirements, building and testing all Honda Equipment INCLUDING IZY mowers. We ensure they operate correctly and at the optimum performance when used for the first time.
WHAT DOES THAT MEAN?
The Honda Pre-delivery Inspection or PDI means that Lings Honda technicians:
- Unpack your machine from its original Honda box
- Build and set up the machine
- Add Oil and Fuel
- Start up and fully test the machine
- Drain the Oil and Fuel, to stop leakages or damage in transit
- Re package it in the original Honda box, which is specifically designed to protect that mower.
- Add in your personal PDI Form, confirming that the correct procedures have been followed
- Send it out to you Via UPS, allowing you to track your order online
- Your Machine has arrived, open the box. With NO TOOLS REQUIRED unfold the handle bars, slip the grass bag fabric onto the frame,* add in the correct quantity of FREE Oil which we supply you, add fuel and away you go.
*HRS 536 SD does not have a grass collector
Should you have any other questions regarding the Honda Pre Delivery Inspection please contact us on 01379 853495